"Located between Shreveport, Louisiana and Uncertain, Texas lies one of the most scenic trophy bass fishing lakes in America."
Recommended by the Caddo Lake Area Chamber of Commerce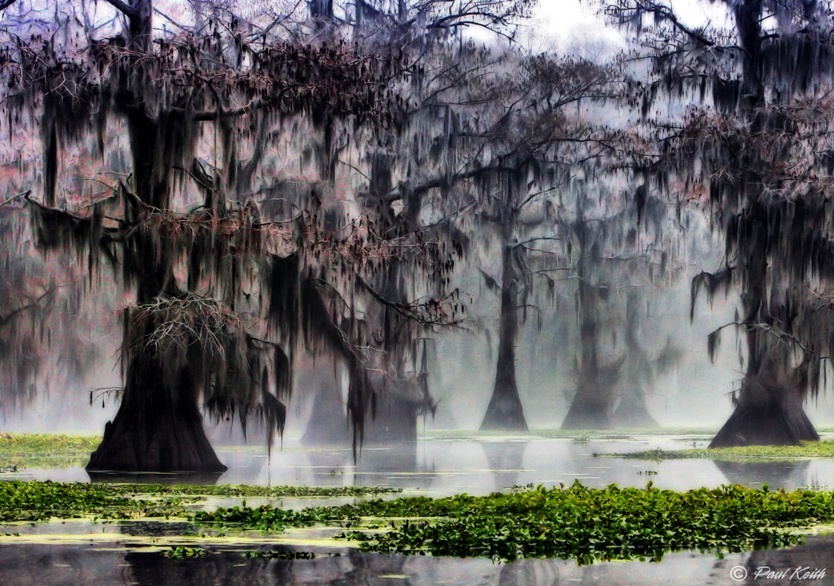 Actress Jennifer Garner on a fishing trip on Caddo Lake.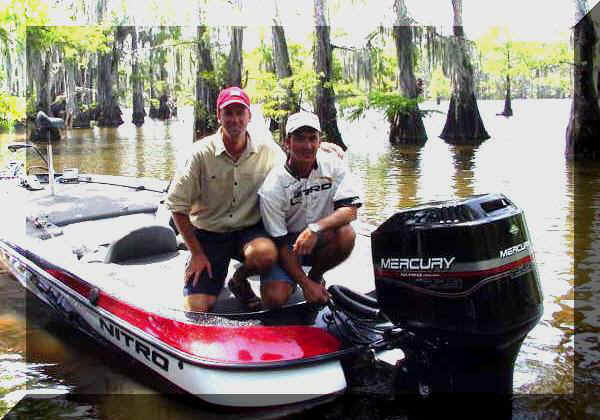 B.A.S.S. Elite Pro's Kevin Vandam, Timmy Horton, and Scott Martin with Caddo Lake Guide Paul Keith
"Thank you for visiting Caddo Lake Guide Service. My name is Paul Keith and I am a licensed guide who owns and operates the guide service. I was raised on the shores of Caddo and have fished this lake all my life. I fish over 200 days a year on Caddo and have fished Caddo for over 38 yrs now.

Caddo Lake is the only lake I guide on and this gives me the opportunity to focus on just one body of water to better serve you.
Being a guide I know what it takes to be successful at fishing and that is "time on the water" there is no replacement for it.

Come learn how we fish a shallow cypress filled lake with its emergent vegetation and swampy bayous. Caddo is the only natural lake in Texas.
So whether you are a beginner or an avid angler there is something for everyone here on Caddo Lake. Come tour the lakes beauty, rich history, and mysterious waters, not to mention its many lunker sized bass.
The lake record for a largemouth bass is 16.17 lbs. that was caught March, 2010.
Grab your rod and your camera and come see all that this lake has to offer."

318-455-3437

caddoguide@gmail.com


$350.00 for HALF day trips (1 or 2 people) 5 hrs.
$275 for 4 hr. trips (1 or 2 people)
$225 for QUICK trips (1 or 2 people) 3 hrs

3rd person is $100 extra for all trips.

Tag boats are $100 on all trips.

Gift Certificates good for 1 year from purchase date.
Group trips with 4 or more boats will be charged an additional 15% scheduling fee.

Holding your trip with a credit card or prepaid deposit is required for all bookings.
Cancellations require a 10 day notice or the deposit is kept or charged.
"No shows" on the day of a scheduled trip will be charged the full amount of that scheduled trip.

SERVICES
* Professional and courteous service from start to finish.
* To do my very best to put you on the most productive fishing patterns and areas on the lake
and hopefully catch your bass of a lifetime.
* Showing you the most up to date tips and techniques available..
* I am experienced as a registered Emergency Medical Technician and CPR certified and have been so for 35 years.
* Fishing equipment available - no charge
*Life vests available - no charge
* Individual to corporate size trips welcomed.
Media
FIELD AND STREAM (Feb/2012)
Top 5 Guides in the South
DISCOVERY CHANNEL
KTAL 6 Sports News
KSLA 12 TELEVISION
KTBS 3 TELEVISION
TEXAS FISH AND GAME
LOUISIANA FISH AND GAME
BASSMASTER MAGAZINE
FOX TELEVISION
FISHING EAST TEXAS with B.HANSON
CHEVY OUTDOORS
TEXAS SPORTSMAN'S ROADSHOW
GAME & FISH MAG
d and Breakfast Inns</a>